This film project is linked to the work we have been doing for 4 years now in the central prison of Arles. This film will in no way be a documentary film, it will in no way be another subject on the prison.
This film will be a powerful fiction.
These men speak to us of only one thing: time.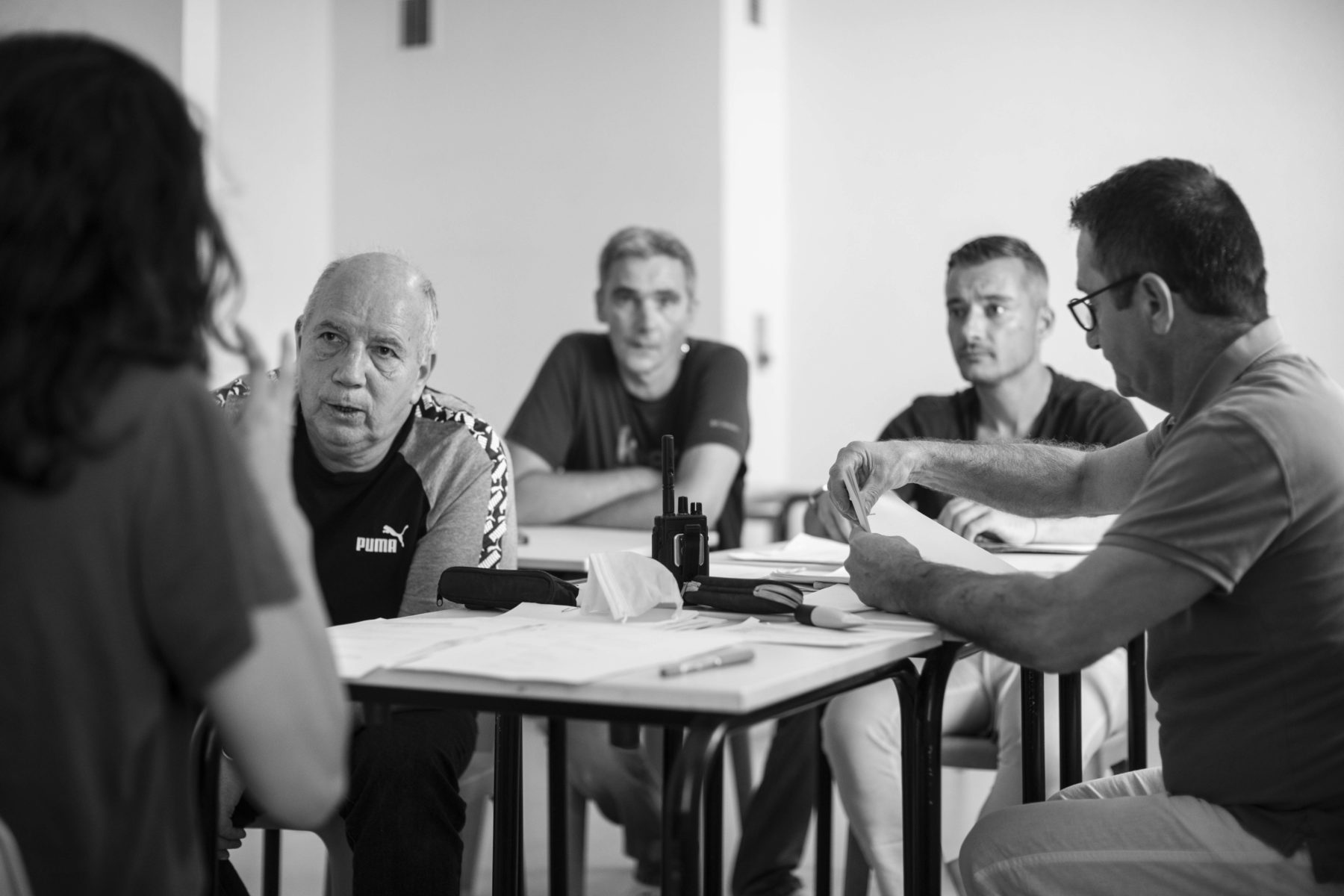 It was asked of those who would assure the continuation of the world to count themselves.

Some people began to declare their Departed.

We were registered as missing. Others refused, because many of them thought that the violence of the Great Floods had probably carried us to the other end of the continent, and they needed only to be patient, and wait: it would take time for us to come round, find the right path back to our homes, return at last…

It was at this period that the government of the new world, to help seek us out, green-lighted the construction of recording booths in each city of every country, where any person could leave video messages that others could consult in the hope that they might recognize a brother, a father or a much loved wife.
Every day our families returned to these places to leave us new messages.Many never stopped looking for us, actively continued to expect our return.

Years went by 10 years, 20 years, 30 years

But we remained unfindable. No-one ever came back.

Throughout those years, these places of waiting were a reservoir of inconsolable grief mixed with boundless hope. There were calls by some to shut down these places that the government of the new world had thought up on the grounds that they needlessly fanned vain hopes and prevented families from coming to terms with their grief. Others though, quite on the contrary, demanded that these places be protected as temples are protected for future generations to discover. Lest we forget. 

Extract from the scenario of "Les Engloutis " (The Departed" Caroline Guiela Nguyen
2019 – 2020
Les Engloutis (The Departed)–  FILM
shot and directed in 2020 at Arles Prison

Scenario and direction Caroline Guiela Nguyen
Script doctor Juliette Alexandre
Head of film photography Augustin Barbaroux 

With
Dan Artus, Ava Baya, Pascal Chazel, Sheila Coren Tissot, Anthony Costes, Sayyid El Alami, Galynette, Violette Garo, Adeline Guillot, Cédric Luste, Laure Mathis, Nino, Alexandre Pallu, Jean Ruimi, Esteban Sanchez, Michel W., Manon Worms, Léon Zongo

1st assistant director Claudia Lopez Lucia 
2nd assistant director Claire Calvi
1st assistant operator Jonas Gayraud
Head set sesigner Alice Duchange 
Assistant set designer Jules Bouteleux
Costumier designer Benjamin Moreau
Sound engineer Gaël Eléon
Chief electrician Colin Lefebvre 
Chief machinist Pierre Marion-Andrès
Stage ManagerAlexandre Kassis
Stage trainee Kenza Vannoni
Image montage Juliette Alexandre
Musical creation Antoine Richard

Production Les Films du Worso (Sylvie Pialat – Benoit Quainon) ; Les Hommes Approximatifs